ENGINEERING CONTRACTORS
Every company has a host of engineering contractors, whether National or International companies. These contractors, especially those involved with the Petroleum and Petrochemical Industries, specify equipment such as ours.
The Manager, Engineers and Technical Libraries of these companies should be kept up-to-date on MAXIMATOR products.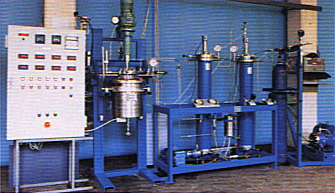 … i. e., MAXIMATOR Research systems
Reaction plants with stirred reactors Custom made High Pressure Autodaves for research and production in the range of following parameters
Volume:
0.1 Itrs.- 20,000 Itrs.
Operation Pressure:
up to 3,000 bar
Operation Temperature:
up to 800°C
Material:
stainless steel, Hasteloy B3/B4/C4, Incoloy.
Inconel, tantalum, titanum, nickel and others
Heating Systems:
electrical heating,
heating-/cooling jacket for oil-circulating thermostats or steam,
For more information about MAXIMATOR Research Systems please contact our specialist Mr. Schaefer.